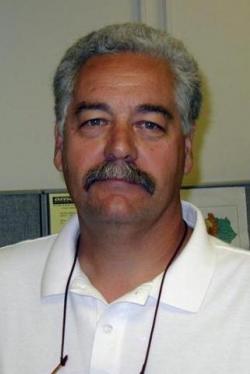 Douglas Johnson
Extension Professor
Professor Emeritus

(270) 365-2667
1205 Hopkinsville St.
U.K. Research & Education Center,
Princeton KY 42445-0469

Department of Entomology
Additional Information
Extension
The overall objective of my program is to provide the citizens of Kentucky with the most reliable and modern information, educational opportunities and decision devices available as they relate to entomology and related concepts. I use many techniques to extend important information. However, you might find that receiving Kentucky Pest News or using our series of ENTFACTS very useful and easy to access. Much of my time and effort is applied to the teaching and development of Integrated Pest Management (IPM) concepts. This philosophy teaches the use of all available methods to manage not eradicate pest while avoiding economic and environmental problems. Closely allied with this concept is the Pesticide Safety Education program which concentrates on the proper and safe use of pesticides. Within our Entomology extension group, I have lead responsibility for soybean, grain sorghum, small grains, and stored grain.
Demonstration Research
My current interests in applied research revolves around insects as vectors of field crop pathogens, and the tools (new and used!) used to manage the situations. There are currently two areas of work. The wheat - grain aphid - barley yellow dwarf virus system is a long standing problem for Kentucky grown small grains. The soybean - bean leaf beetle - bean pod mottle virus system, a long standing but relatively small problem has become very important with the introduction of the soybean aphid. This aphid may vector several viruses, each important in soybean, but greatly magnified when in mixed infections with bean pod mottle virus.
Wheat - Grain Aphids - Barley Yellow Dwarf Virus Would you like to test your scouting skills? The interest of Kentucky's wheat producers in Intensive Wheat Management make this complex a very important consideration. Much of my work is done in conjunction with the Wheat Science Working Group. As part of my efforts in this area of research and education I was privileged to organize a symposium on BYDV at the 1999 Annual Meeting of the Entomological Society of America. Look here for a quick overview of how I think BYD develops in Kentucky.
Soybean - Bean Leaf Beetle / Soybean Aphid - Soybean Virus Complex. The bean leaf beetle has long been a potential problem in Kentucky grown soybeans for its early season damage to seedlings, then again late in the season for to feeding directly on pods. It addition the beetles ability to vector the bean pod mottle virus is problematic on occasion. However, the introduction in 2000 of the soybean aphid, has opened a new chapter on the soybean insect - plant pathogen - host system. With the introduction of the soybean aphid comes an new insect pest, an insect that can vector several soybean damaging viruses, and the possibility of mixed viral infections. Some of which are much more dangerous that each individual virus separately.
Service
I spend a great deal of time in the class rooms and on tours with Primary and Secondary school students. Most of these efforts are directed at introducing sometimes reluctant students to the world of insects, spiders and other related arthropods. Additionally, I like to work in the concepts of IPM as 'THE' method of pest control that provides management for pests and protection for the environment.
Click here for information on our Undergraduate and Graduate programs in Entomology at the University of Kentucky.
Education
Ph.D. 1980 University of Florida
Biography
Doug is a native of Hopkins County Kentucky. He was born in Madisonville, KY and spent his early years in western Kentucky before the family relocated to the Louisville area. In 1967 the family moved to Titusville, FL. He graduated from Titusville High School 1970. In 1974 he received his B.S. in Biology from the University of Central Florida (then Florida Technological University) in Orlando, Florida. Then it was on to Gainesville for his Masters of Science and Doctoral degrees in Entomology from the University of Florida in 1977 and 1980 respectively.
Dr. Johnson joined the University of Kentucky faculty in 1980 as Extension Entomologist. His major emphasis has been work in the area of environmentally sound crop protection. His current applied research interests include developing this theme within the complex arenas of "insect vector / plant pathogen / host plant" systems. Currently he conducts research in the "soybean aphid + bean leaf beetle / multi soybean viruses / soybean" and the "cereal aphids / barley yellow dwarf viruses / wheat" systems. One career highlights is the completion of a one year sabbatical study on the "cereal aphids / barley yellow dwarf viruses / wheat" system at Rothamsted Experimental Station in Harpenden,Hertfordshire, England.
Dr. Johnson currently holds the position of Extension Professor of Entomology and Integrated Pest Management Coordinator. He is the sole Entomology faculty member to be located off campus. His office is in the University of Kentucky Research and Education Center which is located on a 1200 acre experimental farm in Caldwell County Kentucky. He has authored and co-authored several hundred Extension publications, research papers, public press articles, videos, and radio programs. Additionally, Doug has presented his work in a number of international settings. Dr. Johnson is a member of several professional organizations including the Entomological Society of America, and the Kentucky Academy of Sciences.
In addition to his professional work, Doug is married to JoAnn K. (nee') Trotter and they have two daughters. He is active in many community efforts such as Habitat for Humanity, Leadership Caldwell Co., Soccer Association and First Christian Church.