Paul Lenhart
Post-Doctoral Scholar

palenhart@uky.edu
Phone (859) 257-0172
White Laboratory

Department of Entomology

S-225 Ag Science Center N
Lexington KY 40546-0091
Specialties

Community Ecology
Insect Endosymbionts
Nutritional Ecology
Plant-Herbivore Interactions
Curriculum Vitae

cv_lenhart_jan_2016v2.pdf
Laboratory
Education
Ph.D. Entomology 

Texas A&M University (2014)

B.Sc. Ecological and Evolutionary Biology/minor Geology 

University of Texas at El Paso (2008)
Research Interests
As a community ecologist and entomologist I am interested in understanding:
• What mechanisms control communities of insect herbivores?
• Why do these insects periodically outbreak and become pests?
Using my varied experience with insect biodiversity, nutritional physiology, and community analysis I try to discover underlying drivers of the patterns we observe in natural and managed ecosystems. With enough knowledge, the goal is to obtain a mechanistic understanding of insect herbivore community dynamics and move on to predictive frameworks that inform pest management.
As a postdoc in the White lab, I am interested in demonstrating the ecological effects of insect facultative endosymbionts and defensive phenotypes in the field. Different biotypes of the cowpea aphid (Aphis craccivora) have been shown to be toxic to particular natural enemies in laboratory experiments. In some cases defense is mediated by facultative symbionts. My piece of the puzzle is to determine whether these effects truly extend to the field. Factors that vary within a species, such as symbiont infection status and host plant origin, could be leading to insect outbreaks, which have important economic and ecological consequences.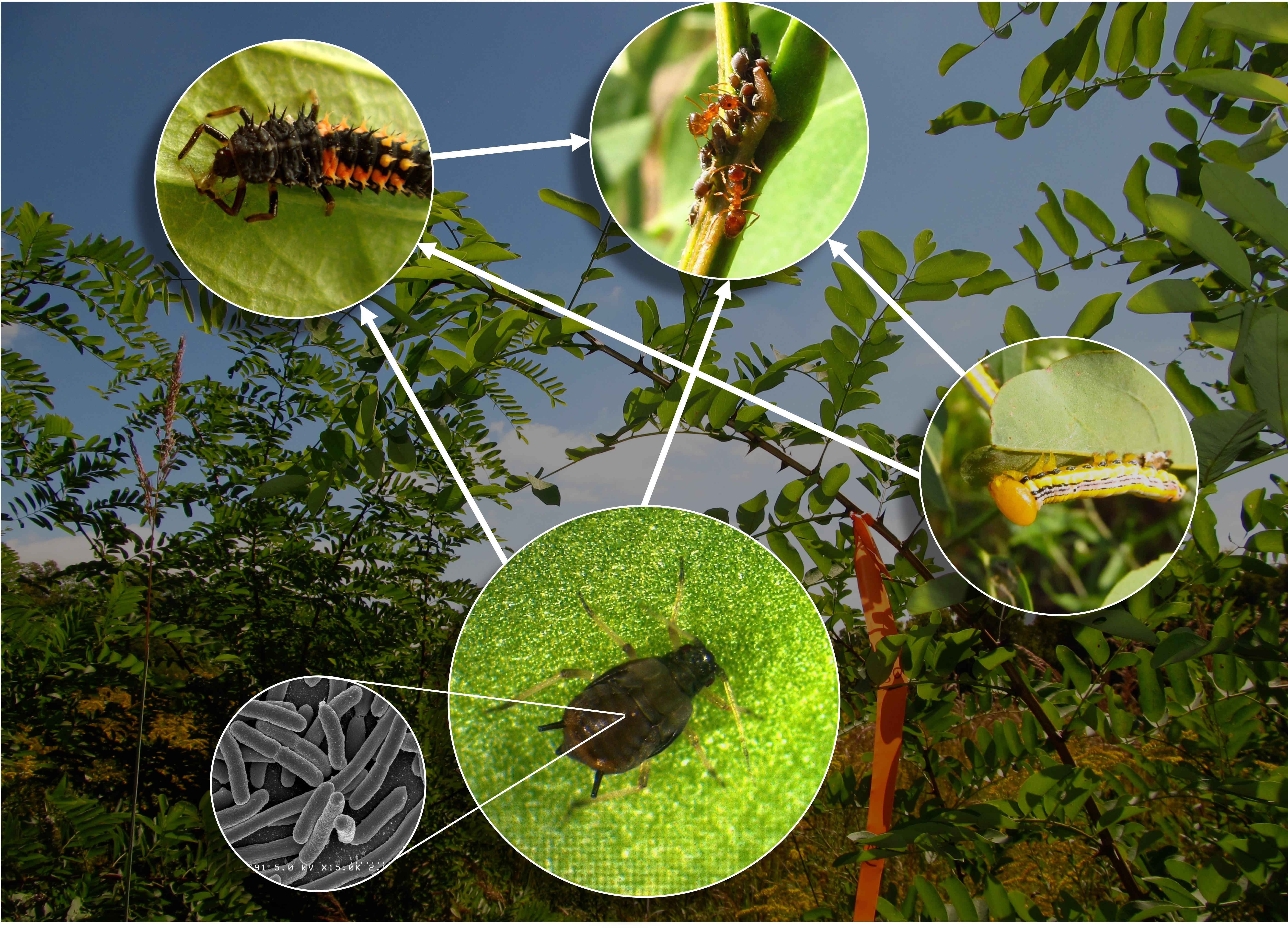 A schematic of the cowpea aphid system on black locust trees.
Other side projects include:
Exploring how the gut microbiome of generalist grasshoppers affects feeding behavior and macro-nutrient regulation. 

Kentucky statewide survey of orthopteroid diversity. This study is the first of its kind in the state and focuses on Kentucky State Nature Preserves (http://naturepreserves.ky.gov/naturepreserves/Pages/default.aspx)
Paratylotropidia brunneri male found on KSNP land by Caitlin Stamper. This specimen is the first from Kentucky and represents a significant range extension.