Dr. Daniel A. Potter Laboratory
Principal Investigator
Email: dapotter@uky.edu
Address: Department of Entomology
S-225 Agricultural Science Bldg. - North
University of Kentucky
Lexington, KY 40546-0091
Office Phone: 859.257.7458
Fax: 859.323.1120
NOTE: Dr. Potter will be retiring in late summer 2022.  He is no longer  seeking new graduate students or post-docs 
Our Vision
Provide research leadership for environmentally responsible solutions to insects impacting  plants in urban and suburban landscapes including lawns, golf courses, sport fields, street and shade trees, parks, pastures, nurseries, and other settings
Enhance basic understanding of pests and beneficial insects, their interactions with plants in urban landscapes, and their responses to anthropogenic disturbances , especially pesticide inputs
 Conduct hypothesis-driven innovative work in conservation biological control, eco-toxicology, urban biodiversity conservation, host plant resistance, and tri-trophic interactions using turf and landscape study systems
Develop future leaders in Urban Landscape Entomology through commitment to  graduate education
We interact with professional landscape and turf managers, industry and government scientists, and the public.  Grad students gain independent research skills as well as extensive teaching, extension, and outreach experience, opening diverse career opportunities.  Nearly all of our graduates have gone on to rewarding scientific careers in academia, state or federal positions, or in industry.
We have inordinate fondness for soil insects, especially scarab grubs, as well as Japanese beetles, caterpillars, wood borers, scale insects, leaf miners, ants, earthworms, and other invertebrates important to urban ecosystems. Another focus is on conservation of beneficial insects, including pollinators, and their ecosystem services.  New systems are readily taken on in response to students' interests and emerging pest problems.  
On my web site you will find a brief personal biography, examples of past and present research projects, a list of selected recent publications from our lab, information about current and past graduate students, and brief descriptions of courses that I teach.
Some Accomplishments of Students from Our Lab:
48 past and present graduate students
Three recipients of John H. Comstock Award, ESA's most prestigious graduate student recognition
Nine recipients of UK College of Agriculture, Food & The Environment Outstanding Graduate Student Award
Recipients of ESA Leadership Award in Applied Entomology, ESA President's Prize (multiple times), ESA scholarships, GCSAA Watson Fellowship, prestigious University fellowships, 18 winners in Ohio Valley Entomological Society  Student Paper Forum
Former students include 10 University faculty members; Industry leaders, Federal and State extension and regulatory positions, horticultural consultants, and small  business owners.  
>75% of the 215 refereed scientific papers originating from our lab had student(s) as the primary (first) author.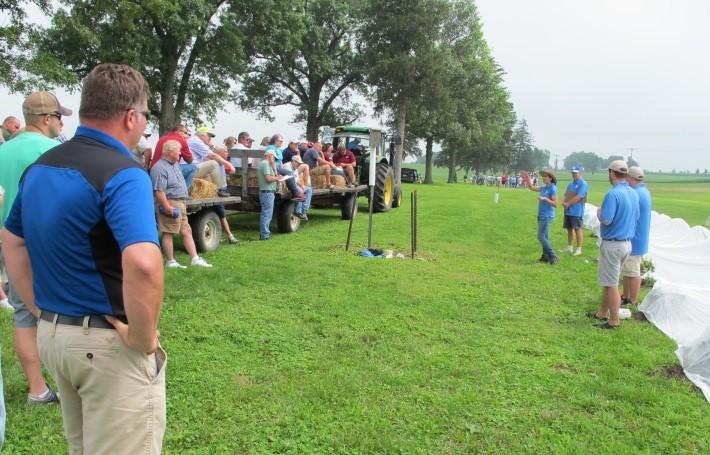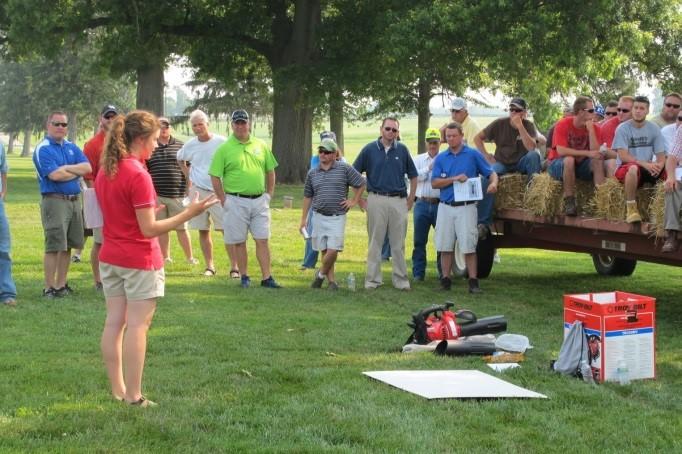 Most Recent Students
Adam Baker

Dissertation: "Optimizing Monarch Butterfly and Bee Conservation Strategies in the Urban Landscape." Theses and Dissertations--Entomology. 52. https://uknowledge.uky.edu/entomology_etds/52
Publications:
Baker AM*, Redmond CT‡, Malcolm SB, Potter DA (2020). Suitability of native milkweed (Asclepias) species versus cultivars for supporting monarch butterflies and bees in urban gardens.  Peer J.  2020:06:49796. 
Baker AM*, Potter DA (2020) Invasive paper wasp turns urban pollinator gardens into ecological traps for monarch butterfly larvae. Scientific Reports10, 9553 (2020). https://doi.org/10.1038/s41598-020-66621-6
Baker AM*, Potter DA (2019) Configuration and location of small urban gardens affect colonization by monarch butterflies. Frontiers in Ecology and Evolution https://doi.org/10.3389/fevo.2019.00474
Baker AM*, Potter DA (2018) Japanese beetles' feeding on milkweed flowers may compromise efforts to restore monarch butterfly habitat. Scientific Reports 8:12139 DOI:10.10.1038/s41598-018-30731-z 
Baker AM*, Potter DA (2018) Colonization and usage of eight milkweed (Asclepias) species by monarch butterflies, bees, and other insect herbivores in urban garden settings. Journal of Insect Conservation. https//doi.org/10.1007.s10841-18-0069-5 
Bernadette Mach
Dissertation: "Bee Conservation in Urban Landscapes: Assessing Bee Assemblages, Bee-attractiveness, and Nutritional Value of Woody Landscape Plants and Mitigating Potential Bee Hazard from Neonicotinoid Insecticides (2018). Theses and Dissertations –Entomology. https://uknowledge.uky.edu/entomology_etds/46 
Publications:
Mach BM, Potter DA (2018) Quantifying bee assemblages and attractiveness of flowering woody landscape plants for urban pollinator conservation.  PLoS ONE 13(12): e0208428.
Mach BM, Bondarenko S, Potter DA (2017) Uptake and dissipation of neonicotinoid residues in nectar and foliage of systemically treated woody landscape plants. Environ Tox Chem 9999:1–11 DOI: 10.1002/etc.4021
Diana Miller, Masters 2015
Thesis: Evaluating a Novel Endophytic Grass for Its Potential to Reduce Invertebrate Populations and Associated Bird Strike Risk at Airports
Publication:
Miller DM, Redmond CT, Flythe MD, Potter DA (2017) Evaluation of 'Jackal' AR601(Avanex) and Kentucky-31 endophytic tall fescues for suppressing types of invertebrates that contribute to bird strike hazard at airports. Crop, Forage, & Turfgrass Manag,  3(1): 1–11; doi 10.2134/cftm2017.03.0023

Jonathan Larson, PhD 2014
Dissertation: Assessing and Mitigating Lawn Insecticide Hazards to Bees and Other Beneficial Invertebrates
Publications:
Larson JL, Redmond CT, Potter DA (2015). Mowing mitigates bioactivity of neonicotinoid insecticides in nectar of flowering lawn weeds and turfgrass guttation. Environ. Toxicol. Chem 34:127-132.
Larson JL, Redmond CT, Potter DA (2014). Impacts of a neonicotinoid, neonicotinoid–pyrethroid premix, and anthranilic diamide insecticide on four species of turf inhabiting beneficial insects. Ecotoxicology 23: 252-259.
Larson JL, Kesheimer AJ, Potter DA (2014). Pollinator assemblages on dandelion and white clover in urban and suburban lawns. J. Insect Conservation 18:863-873.
Larson JL, Redmond CT, Potter DA (2013). Assessing Insecticide Hazard to Bumble Bees Foraging on Flowering Weeds in Treated Lawns. PLoS ONE 8(6):e66375. doi:10.1371/journal.pone.0066375JL
Larson JL, Redmond CT, Potter DA (2012). Comparative impact of an anthranilic diamide and other insecticidal chemistries on beneficial invertebrates and ecosystem services in turf. Pest Manag. Sci. 68: 740-748.
Emily Dobbs, Masters 2014
Thesis: Enhancing Beneficial Insect Biodiversity and Biological Control in Turf: Mowing Height, Naturalized Roughs and Operation Pollinator 
Publications:
Dobbs EK, Potter DA (2016) Naturalized habitat on golf courses: source of sink for natural enemies and conservation biological control? Urban Ecosyst. DOI 10.1007/s 11252-015-0521-1
Dobbs EK and DA Potter (2015). Forging natural links with golf courses for pollinator-related conservation, outreach, teaching, and research. American Entomologist 61: 116–123.
Dobbs EK, Potter DA (2014). Conservation biological control and pest performance in lawn turf: Does mowing height matter? Environmental Management 53: 648-659.
Craig Keathley, PhD 2011
Dissertation: Insect Response to Modified Forage Grasses and Implications for Pasture Sustainability 
Publications:
Keathley CP, Harrison RL, Potter DA (2012). Baculovirus infection of the armyworm (Lepidoptera: Noctuidae) feeding on spiny- or smooth-edged grass (Festuca spp.) leaf blades. Biol. Control 61: 147-54.
Keathley CP, Potter DA (2012). Arthropod abundance in tall fescue pastures containing novel "safe" endophytes. Ann. Appl. Biol. DOI: 10.1111/j.1439-0418.2011.01698.x
Keathley CP, Potter DA (2011). Behavioral plasticity of a grass-feeding caterpillar in response to spiny or smooth-edged leaf blades. Arthropod-Plant Interactions 5: 339-49.
Keathley CP, Potter DA (2010). Does Modification of Tall Fescue Leaf Texture and Forage Nutritive Value for Improved Livestock Performance Increase Suitability for a Grass-feeding Caterpillar? Crop Sci. 51(1): 370-380. doi:10.2135/cropsci2010.03.0163
Andrea Bixby-Brosi, PhD 2011
Dissertation: Biological control of the black cutworm, Agrotis ipsilon (Lepidoptera: Noctuidae), and endophyte mediated tritrophic interactions in turfgrass 
Publications:
Bixby-Brosi AJ, Potter DA (2012). Can a chitin-synthesis-inhibiting turfgrass fungicide enhance black cutworm susceptibility to a baculovirus? Pest Manag. Sci. 68: 324-29.
Bixby-Brosi AJ, Potter DA (2011). Endophyte-mediated tritrophic interactions between a grass-feeding caterpillar and two parasitoid species with different life histories. Arthopod-Plant Interactions 6: 27-34.
Bixby AJ, Potter D.A. (2010). Influence of endophyte (Neotyphodium lolii) infection of perennial ryegrass on susceptibility of the black cutworm (Lepidoptera: Noctuidae) to a baculovirus. Biological Control, 54: 141-146.
Bixby-Brosi AJ, Potter DA (2010). Evaluating a naturally-occurring baculovirus for extended biological control of the black cutworm (Lepidoptera: Noctuidae) in golf course habitats. J. Econ. Entomol. 103:1555-63.