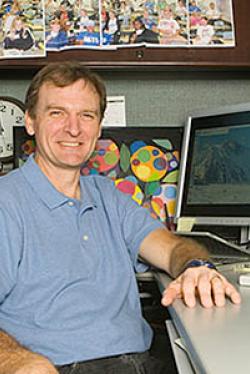 Bruce Webb
Professor Emeritus

(859) 323-1120
S-225 Ag Science Center N
Lexington KY 40546-0091

Department of Entomology
Professional Profile
Professor, Virology and Molecular Genetics
Research
Our lab is primarily focusing on an unusual group of viruses, the polydnaviruses. These viruses occur in two groups of parasitic wasps and cause developmental and immunological disruptions of the physiology of their lepidopteran hosts. We are pursuing both the molecular basis for these alterations of host physiology and the genetic organization of polydnaviruses.  We also have active projects related to baculovirus infections of Eastern Tent Caterpillars and the relationship between baculovirus and polydnavirus infections.
Information for Prospective Students
The Webb laboratory has a good record of training and placing students and postdoctoral associates. We strive to maintain a productive, interactive and enjoyable research environrment. Opportunities are available for building upon our existing understanding of polydnavirus systems or developing new lines of research in this or related areas. Students have led the major research findings from the laboratory and will undoubtedly continue to do so. This laboratory strives to provide a rigorous but supportive environment where students can develop their research interests and capabilities. 
If you are interested in the possibility of joining the lab, please contact me by email (bawebb@uky.edu), phone (859-257-7415) or use the application materials available below. The following links will give you additional information on applying to the University of Kentucky.
Agricultural Biotechnology Program
Bruce Webb serves as an advisor and mentor in the undergraduate program of Agricultural Biotechnology.  This is a high-quality program at the University of Kentucky that is appropriate for students having career interests in the bioscience professions (Medical, Dental, Veterinary, Pharmacy), for graduate school in the biosciences or for technical and sales jobs in the biosciences upon graduation. For more information on this program click on the Agricultural Biotechnology hotlink below:
Agricultural Biotechnology Homepage
Revised: Nov 27, 2012
Education
Ph.D. University of Washington (1988)