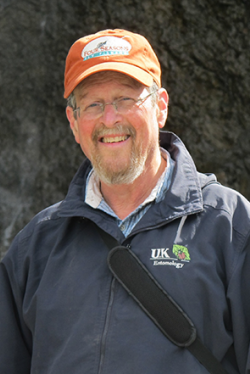 Daniel A. Potter
Professor Emeritus

(859) 323-1120
S-225 Ag Science Center N
Lexington KY 40546-0091

Department of Entomology
Specialties: Horticultural Entomology
CV: dapvita22.pdf
Professional Profile
NOTE: Dr. Potter will be retiring in late summer 2022.  He is no longer  seeking new graduate students or post-docs
Laboratory
Learn more about our research program at the Dr. Daniel A. Potter Laboratory Homepage.
Biography
Daniel A. Potter, Professor of Entomology, has been on the faculty of the University of Kentucky since 1979.  He is an authority on the biology of insects affecting urban landscapes, recognized in particular for applying ecological principles in developing sustainable pest management practices.  Recent research foci include ecotoxicology and urban pollinator conservation.  He and his students have published more than 215 refereed scientific papers, some 25 invited book chapters, three Annual Reviews, and many dozens of trade journal articles.  He is a frequent Keynote Speaker at industry conferences, and an invited speaker at scientific conferences throughout the world.  A University of Kentucky Distinguished Research Professor and elected Fellow of the Entomological Society of America, Potter has received national awards for research, teaching, and service to the horticultural industries.  He received his B.S. degree from Cornell University in 1974 and a Ph.D. in entomology from the Ohio State University in 1978.
Dr. Potter teaches ENT 320 (Horticultural Entomology), an annual 3-credit undergraduate course with lab, and ENT/BIO 625 (Insect-Plant Relationships), a bi-annual 3-credit graduate level course. He also has taught ENT 110 (Insect Biology for non-majors), as well as various graduate seminars. He has served as Major Professor for more than 48 graduate students and on the Advisory Committee for >100 others.
Courses Taught
Horticultural Entomology (ENT 320). 3 credit hours, Fall semester, annually. This practical undergraduate course covers the biology, diagnosis, and control of insect and mite pests of woody landscape plants, lawns, golf courses, and sport fields, greenhouse crops, vegetables, and fruits. Household pests, bees, and pollination also are covered. Students learn the basics of insect biology, safe use of insecticides, biological and cultural control, plant resistance, and integrated pest management. There are weekly labs and field trips. ENT 320 is appropriate for undergrads in the applied plant sciences. Donovan Scholars, Master Gardeners, or other nontraditional students are welcome. There are no prerequisites, although an understanding of introductory biology is assumed. The course is taught at a level suitable for students without prior entomological training.
Insect-Plant Relationships (ENT/BIO 625). 3 credit hours; taught Spring semester of odd-numbered years. This interdisciplinary graduate-level course covers the processes that underlie patterns of interaction between plants and insects. We explore the mechanisms and evolution of plant defense; sensory, physiological, and behavioral adaptations of plant-feeding insects, community ecology, multitrophic interactions, pollination biology, causes of insect outbreaks, and applications to natural and managed ecosystems. A combination of conventional and Socratic teaching methods is used. Tuesday lectures outline major concepts and theory; Thursday discussions focus on historical and modern research papers and syntheses, including many of the landmark studies in this dynamic field of study. The course encourages critical thinking, reading, and discussion. It is suitable for graduate students in the agricultural and biological sciences. No formal Entomological background is necessary.