GRADUATE PROGRAM IN ENTOMOLOGY
NEW ONLINE M.S. PROGRAM
This new program allows online students to pursue a Master's Degree from the University of Kentucky Department of Entomology, one of the Top 10 entomology programs in the United States. Students will pay in-state tuition regardless of their location, and scholarships will be available on a competitive basis. Currently accepting new applications.
If you are interested in learning more about this program, contact:
Dr. Tonja Fisher
Director of Online Programs
tonja.fisher@uky.edu
(859) 257-7450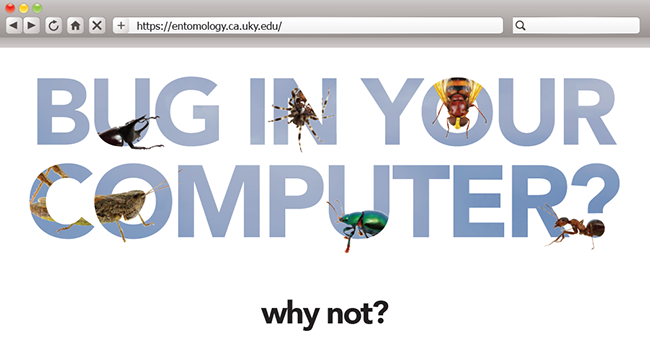 A Top Ten Program
The University of Kentucky's Department of Entomology, in existence for over 125 years of continuous education, research and service, is one of the oldest and most productive units of its kind in the nation. The Department has a rich legacy of vibrant scholarship and innovative education and outreach, coupled with strong commitment to graduate education.  It is designated a nationally Top 10 Entomology Program by the Chronicle of Higher Education Faculty Scholar Activity Index, and boasts four faculty members who have served as President or been elected as Fellows of the Entomological Society of America. The UK Entomology graduate program consistently ranks among the top graduate programs at the University of Kentucky, as measured by total number of graduate student presentations and publications. 
The Department of Entomology offers graduate work leading to the Master of Science (Plan A -- Thesis and Plan B -- Non-thesis) and the Doctor of Philosophy degrees.  Individual graduate programs are planned by students in consultation with their advisor and the Director of Graduate Studies.  Study and research are available in various areas of entomology including acarology, applied entomology, araneology, behavior, biochemistry, biological control, ecology, genetics, host plant resistance, insect biology, medical and veterinary entomology, molecular biology, physiology, systematics, and taxonomy.  The discipline of entomology, similar to all agricultural and biological sciences, has evolved significantly during the past two decades and continues to undergo rapid changes.  To increase flexibility in the core curricula, the PhD and MS core curricula are the responsibility of the graduate faculty in Entomology.
Admission Requirements
Minimum admission requirements include an overall undergraduate grade point average of 3.0 and an overall graduate grade point average of 3.25, and a score. Those whose native language is not English must have a Test of English as a Foreign Language (TOEFL) with a minimum score of 79 on the TOEFL-iBT or a minimum score of 6.5 on the International English Language Testing System (IELTS). Meeting the minimum requirements does not guarantee admission. These minimal requirements may be waived in exceptional cases if sufficient additional evidence is presented regarding the ability of the student to do graduate work. Admission to the Graduate Program in Entomology does NOT automatically guarantee financial assistance to the student. 
Entomology Graduate Student Handbook
Degree Requirements
During their first year of graduate studies, M.S. (Plan A) and Ph.D. students are required to prepare a formal written research proposal encompassing a thorough literature review, clear statement of objectives, and materials and methods of the project.  A research proposal seminar will be presented to the Department upon completion of the written research proposal.  An exit seminar, usually presented during the last semester of the student's tenure, is required for M.S. (plans A and B) and Ph.D. students.  August graduates will present their seminar in the preceding spring. M.S. students using the Plan B option will be required to provide a detailed outline of their practicum to their Advisory Committee.  The practicum must be a minimum of 3 credit hours (maximum of 6 credit hours) and may consist of library research, special problems, internships, etc., as agreed upon by the student and major professor, and approved by the Advisory Committee.  The general requirements for all M.S. and Ph.D. degrees at the University of Kentucky can be found in the Graduate School Bulletin:
 http://www.research.uky.edu/gs/bulletin/bullinfo.shtml 
M.S. and Ph.D. students will be required to post a formal notification of scheduled examinations on the notice board in the main departmental office two weeks prior to the examination date. 
Description of core course requirements
All M.S. and Ph.D. students must satisfy the following core course requirements:
1. An undergraduate course in general entomology. Students who have not had such a course must take ENT 300.
2. STA 570 Basic Statistical Analysis
3. Each M.S. student must take two semesters of ENT 770, Entomological Seminar, (or approved equivalent seminars) and Ph.D. candidates must take four semesters of approved seminars.
4. Ph.D. and M.S. candidates using the Plan A option must take a minimum of one course from two of the following core areas.  M.S. candidates using the Plan B option must take a minimum of one course from all three core areas.
Core Area 1: Insect Behavior, Ecology, Evolution and Systematics
ENT 564 Insect Taxonomy
ENT 568 Insect Behavior
ENT 607 Advanced Evolution
ENT 625 Insect-Plant Relationships
ENT 660 Immature Insects
ENT 665 Insect Ecology
ENT 667 Invasive Species Biology
Core Area 2: Insect Molecular Biology, Physiology and Genetics
ENT 509 Brains and Buds: Neuroscience of Pollination
ENT 635 Insect Physiology
ENT 636 Insect Molecular Biology
Core Area 3: Pest Management and Applied Ecology
ENT 530 Integrated Pest Management
ENT 561 Insects Affecting Human and Animal Health
ENT 574 Advanced Applied Entomology
ENT 680 Biological Control 
In all cases, an equivalent graduate level course from another institution is acceptable upon approval of the Advisory Committee.  Such approval will not decrease the minimum number of credits required, but simply will permit the student to take other courses. 
Description of Entomology Courses
Courses are described in the current Course Bulletin (PDF) from the Registrar's office.  They are also listed on this site here. 
List of Graduate Courses
(Number of credit hours associated with each course are listed in parentheses.)
ENT 520 DIGITAL IDENTIFICATION: INSECTS & THEIR RELATIVES (3)
ENT 530 INTEGRATED PEST MANAGEMENT (3)
ENT 561 INSECTS AFFECTING HUMAN AND ANIMAL HEALTH (SAME AS BIO 561) (3)
ENT 564 INSECT TAXONOMY (SAME AS BIO 564) (4)
ENT 568 INSECT BEHAVIOR (SAME AS BIO 568) (3)
ENT 574 ADVANCED APPLIED ENTOMOLOGY (4)
ENT 605 EMPIRICAL METHODS IN ECOLOGY AND EVOLUTION (SAME AS BIO/FOR 605) (2)
ENT 606 CONCEPTUAL METHODS IN ECOLOGY AND EVOLUTION (SAME AS BIO/FOR 606) (3)
ENT 607 ADVANCED EVOLUTION (SAME AS BIO/FOR 607) (2)
ENT 608 BEHAVIORAL ECOLOGY AND LIFE HISTORIES (SAME AS BIO/FOR 608) (2)
ENT 609 POPULATION AND COMMUNITY ECOLOGY (SAME AS BIO/FOR 609) (2)
ENT 613 BEHAVIORAL ECOLOGY AND COMPARATIVE NEUROBIOLOGY (SAME AS BIO/PSY/PGY/ANA 613) (2)
ENT 614 TECHNIQUES IN BEHAVIORAL ECOLOGY AND COMPARATIVE NEUROBIOLOGY (SAME AS BIO/PSY/PGY/ANA 614) (2)
ENT 625 INSECT-PLANT RELATIONSHIPS (SAME AS BIO 625) (3)
ENT 635 INSECT PHYSIOLOGY (SAME AS BIO 635) (4)
ENT 636 INSECT MOLECULAR BIOLOGY (SAME AS BIO 636) (4)
ENT 660 IMMATURE INSECTS (3)
ENT 665 INSECT ECOLOGY (SAME AS BIO 665) (3)
ENT 667 INVASIVE SPECIES BIOLOGY (SAME AS BIO/FOR 667) (3)
ENT 680 BIOLOGICAL CONTROL (3)
ENT 695 SPECIAL TOPICS IN ENTOMOLOGY (SUBTITLE REQUIRED) (3)
ENT 748 MASTER'S THESIS RESEARCH (0)
ENT 749 DISSERTATION RESEARCH (0)
ENT 768 RESIDENCE CREDIT FOR THE MASTER'S DEGREE (1-6)
ENT 769 RESIDENCE CREDIT FOR THE DOCTOR'S DEGREE (0-12)
ENT 770 ENTOMOLOGICAL SEMINAR (1)
ENT 780 SPECIAL PROBLEMS IN ENTOMOLOGY AND ACAROLOGY (2-3)
ENT 790 RESEARCH IN ENTOMOLOGY AND ACAROLOGY (1-6) 
Financial Assistance
Departmental Assistantships and University Fellowships are available on a competitive basis to graduate students in the Department of Entomology.  You will automatically be considered for an assistantship or fellowship as part of your application.  Recipients of Research Assistantships do not pay tuition.  In most cases, recipients of University Fellowships do not pay tuition. 
Research Facilities
The Department of Entomology is primarily housed in the Agricultural Sciences Center, with some outlying laboratories.  Excellent facilities are available for research use, including:
field research facilities,
controlled environmental chambers,
greenhouses,
large animal barns, and
an insect reference collection. 
Laboratories are equipped with a wide range of instrumentation to accommodate research in such areas as:
behavior,
physiology,
pathology,
systematics,
ecology,
molecular biology, and
modeling. 
There is a departmental computer laboratory.  Entomological books and related literature are readily available through the modern University of Kentucky library system, which includes numerous online services.  
The Faculty and Their Research
Visit the faculty page to read about each Department of Entomology faculty member and their respective research. 
Graduate Student Mentoring
Core Values and Responsibilities Document (PDF) 
How To Apply
To apply for admission to the Department of Entomology graduate program, you will need to provide the following information: 
Send directly to the University of Kentucky Graduate School:
Application for Admission to the University of Kentucky Graduate School
Copies of all college transcripts
Test of English as a Foreign Language (TOEFL) (if your native language is not English) scores
A 2-page statement explaining (a) your reason for applying to an Entomology graduate program and to our graduate program in particular, (b) your proposed area(s) of specialization, including why you selected your chosen area(s) of specialization, and (c) which of our faculty members most interest you as prospective mentors, and why. Note that this statement may be used to nominate you for university fellowships if you are admitted to our graduate program.
A curriculum vitae (CV)
Three letters of reference 
Applications may be submitted at any time. 
You may now apply for admission to the University of Kentucky Graduate School using online forms.  Instructions are included with the forms.  More information for prospective students at all levels is provided on the University of Kentucky website. 
For additional Information, contact:
Dr. Charles Fox (cfox@uky.edu)
Director of Graduate Studies
Department of Entomology
University of Kentucky
Lexington, KY 40546-0091
Phone: 859.257.7474

Blake Newton
Website Maintenance


Department of Entomology
University of Kentucky
Lexington, KY 40546-0091
Phone: 859.257.7453