Entomology Leadership Program
Kentucky Entomology Leadership Program
June 4-9, 2023  |  Robinson Forest  |  Clayhole, KY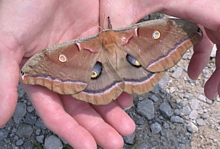 The Kentucky Entomology Leadership Program is a week-long, outdoor summer entomology course for high school students. Join us for an intense week of insect collection, identification, and forest/insect ecology.
The Entomology Leadership Program is a component of the Kentucky Forest Leadership Program (KFLP). For over 40 years, KFLP (a program developed by the University of Kentucky Department of Forestry) has been introducing high-school students to the basics of forest management during a one-week, overnight summer program. Participating students spend the week investigating an 80-acre plot of woods using real life forest-management techniques.
Since 2004, the Department of Entomology has teamed with the Department of Forestry to expand KFLP by adding Entomology to the mix. Now, the program is known as KFELP: The Kentucky Forest and Entomology Leadership Program. Students who enroll in the entomology component spend most of the week learning the basics of entomology and surveying the impact of insects in the same 80-acre plot of woods that is being investigated by the forestry students. At key points during the week, the entomology and forestry students share their findings and work together to solve real-life forest management problems. A Wildlife component was also recently added.
To learn more about the Forestry and Wildlife components of Leadership Program, and to see more pictures and feedback from past students, visit the main website at: https://kflp.ca.uky.edu/
Apply
This program is open to high-school students entering their junior or senior year with an interest in biology, ecology, forestry, or entomology. The total cost is $500, including a $50 application fee. This fee includes food, dorm-style lodging, materials, and instruction. Find the application here (be sure to select the "entomology" option if you are interested in attending the entomology portion of the camp; note that options also exist for "forestry" and "wildlife"): 
Out-of-State Applicants
Non-Kentucky applicants are encouraged to apply and several have attended in the past. All fees and application requirements are the same for out-of-state applicants. 
Facebook
To see dozens of images from past camps and to interact with alumni and camp leaders, visit our Facebook Page 

Lasting Impact
Former participant Lydia Thomas (a student from Shelby County who was a camper during our second year) contributed a web page on Stag Beetles for our Kentucky Critter Files while she was enrolled at the leadership program.  The page receives about 8,000 visits per year. Future participants will also have the opportunity to create similar web pages.  See Lydia's Stag Beetle page here: www.uky.edu/Agriculture/CritterFiles/casefile/insects/beetles/stag/stag.htm
Tyler Nelson, a 2007 & 2008 KFELP alumnus, became a nature instructor at Camp Shalom, an annual summer camp sponsored by the Central Kentucky Jewish Federation (CKJF).  At Camp Shalom, Tyler taught Teva, the nature course. In Teva, Tyler used skills that she learned at KFELP to teach younger children about entomology and water-quality investigation, among other topics.  In fact, Tyler wasn't just a Teva instructor, she was the founder.  Teva did not exist as an autonomous discipline at Camp Shalom before 2007, when Tyler created it.  Tyler has moved on, but her Teva program is still taught each year at Camp Shalom. Read more about Tyler, Teva, and the KFELP connection in this AgNews article written by Katie Pratt.  Read more about Camp Shalom at the CKFJ homepage. 
Contact
For more information about the Kentucky Entomology Leadership Program, contact:
Blake Newton
University of Kentucky
Extension Entomology
S-225 Ag. Sci. North
Lexington, KY 40546-0091
859.257.7453  |  blaken@uky.edu