Morgan Knutsen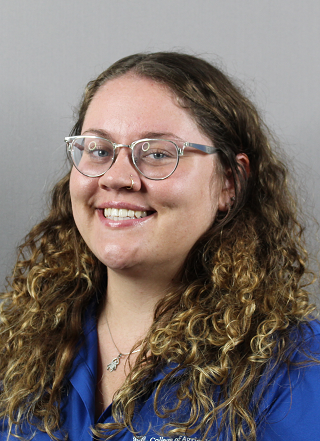 S-225 Ag. Science North
Lexington, KY 40546-0091
Last Revised: Nov 20th, 2023
Professional Biography
Education
B.S. in Environmental Biology and Zoology, Western Illinois University (graduated May 2021)
M.S. in Entomology, University of Kentucky (graduated August 2023)
Ph.D. in Entomology, University of Kentucky (expected graduation December 2027)
Work Experience:
 2021-present: Graduate Research Assistantship. University of Kentucky, Department of Entomology.
Fall 2022 & 2023: Teaching Assistant. ENT/BIO/FOR 502: Forest Entomology. University of Kentucky. 
Research Interests
I am currently a Ph.D. student in Dr. Lynne Rieske-Kinney's Forest Entomology Lab where I am evaluating a fungal associate transformed to induce gene silencing as a delivery mechanism for dsRNA in southern pine beetle. For my master's degree, I investigated the feasibility of RNAi-mediated gene silencing in the redbay ambrosia beetle and the presence of the causal agent of laurel wilt disease in sassafras-associated insects. My main research interests include fungal-insect interactions and innovative ways to manage forest pests.