Raul Villanueva
Professional Biography
Contact Information
Direct Line: (859) 562-1335
Operator: (270) 365-7541
Fax: (270) 3652667
Department of Entomology
University of Kentucky-Research and Education Center
1205 Hopkinsville Street P.O. Box 469
Princeton, KY 42445
Curriculum Vitae Short
Education
Ph.D. Entomology - University of Florida, USA.
M.Sc. Biology - Queen's University, Canada.
Extension Statement
As the entomologist in charge of field crops at the University of Kentucky, my extension programs focus principally on wheat, corn, and soybean crops for the entire state. However, as the only member of the Department of Entomology outside of the Lexington campus, I am active supporting my clientele with entomological concerns related to vegetables, fruit, ornamentals, and arthropods invading structures and of importance for human health in western Kentucky.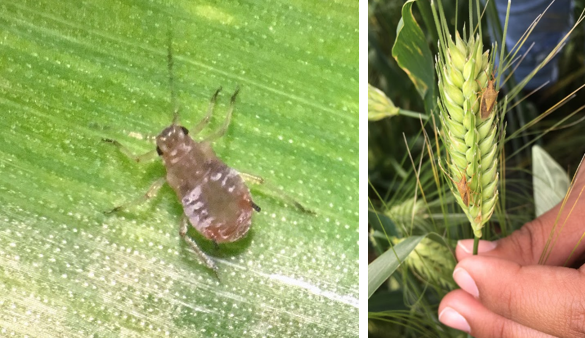 Clockwise starting from top: infected aphid, rice stink bug in barley, slug damage in soybeans, Dectes stem borer larva, and adult.
Applied Research
My applied research is based in building teams among specialists from various disciplines and organizations. My research program also incorporates the mentoring of undergraduate and graduate students to conduct research on issues relevant to the farmers of Kentucky. Topics currently evaluated in my program are: 
Aphid presence in the fall and spring, insecticide applications, and BYDV infections (funded by the Kentucky Small Grains Promotion Council)
Diversity, identification and damage caused by stink bugs in Kentucky soybeans and corn (MSc. Thesis: potential student Y. Gonzalez, funded by KY Soybean Promotion Board)
Slug damage and cover crops, insecticide seed treatments, and ground beetle relationships (not funded)
Management of Brown Marmorated Stink Bugs: Halymorpha halys in Kentucky (MSc. Thesis: L. Fann, funded by USDA-NIFA)
Biology, abundance, and damage caused by Dectes stem borer (MSc. Thesis, I. Gomes)
Distribution and phenology of Kudzu bug in Kentucky.
Ambrosia beetles: phenology and management (funded by KY Department of Agriculture)
Sugarcane aphid on grain, forage and sweet sorghum (not funded)
Current graduate students
Izabela Gomes, MS Student, co-advised with Ric Bessin
Lauren Fann, MS Student, co-advised with Ric Bessin
Yaziri Gonzalez, MS Student, co-advised with Ric Bessin
Visitor Scholars
Rocio Davila (2018), studied Abundances of slugs and carabid predators in soybeans
Muhammad Qayyoum (2016), studied the Influence of Bio-solids, Poultry and Swine Manure on Soil Inhabiting Mites Found on Corn and Wheat Fields in Western Kentucky
Selected peer-reviewed publications
Zapata, S.D., R. Dudensing, D. Sekula.G. Esparza-Diaz, and R.T. Villanueva. 2017. Economic impact of the sugarcane aphid outbreak in south Texas. Journal of Agricultural and Applied Economics. 1-25. doi:10.1017/aae.2017.24
Armstrong, J. S., L. Mbulwe, D. Sekula-Ortiz G., R. T. Villanueva, and W. L. Rooney. 2016. Resistance to Melanaphis sacchari (Hemiptera: Aphididae) in forage and grain sorghums. Journal of Economic Entomology, 0:1-7.
Villanueva R.T., and G. Esparza-Diaz. 2016. Phytoseiids as potential natural enemies of the potato psyllid in organic potato production in south Texas. Journal of the Acarological Society of Japan, 25: 137-145.