General Use Insecticides for Home Gardening
ENTFACT-445: General Use Insecticides for Home Gardening  |  Download PDF
by Ric Bessin, Extension Specialist
University of Kentucky College of Agriculture 
Home gardeners are confronted with a large number of potential insect problems. The types of potential insect problems will depend on their location, health of their plants, and types of plants they grow. Depending on the type of plant, problems can range from rare to frequent. A pest management program for home gardeners should rely on proper identification of insect pests, effective use of preventive cultural controls, conservation of natural enemies, and use of chemical controls as a last resort if other control strategies are ineffective or unavailable for a particular problem. 
Cultural controls that help home gardeners reduce pest problems include proper site selection, sanitation of residues and weeds, use of resistant varieties, cultivation, crop rotation, altering planting and harvest dates appropriate timing and amount of irrigation and fertilization, and use of barriers and exclusion. Cultural controls are selected used preventively and selected according to the chances of particular insect problems occurring in the area. 
Another important concept is that it often takes a large number of a particular pest to reduce the yield of a plants and affect plant health. A single aphid should not cause alarm, but many colonies on just a few plants may require action. In this instance, a strong stream of water or an application of insecticidal soap may be all that is needed. 
This publication lists some of the various general use insecticides that are currently on the market for home gardeners. The usage area for a particular insecticide are indicated, but the user must check each label to be sure that application to particular types of plants are permitted. Only the uses listed on the pesticide label are permitted. You must read the labels to understand the restrictions. Another label restriction is the minimum amount of time between application and when food crops can be harvested. This is referred to as the pre-harvest interval (PHI). Other information concerning mixing and dosages, application methods, protective equipment, storage, and container disposal are also included on the label. 
Not all brands of insecticides are listed in these tables, as some companies do not make their pesticide labels available on the internet. But the list does provide a comprehensive guide to the types of materials available to home gardeners.
Note: For the table below, the PDF version of this document has clickable links to the label of each product listed.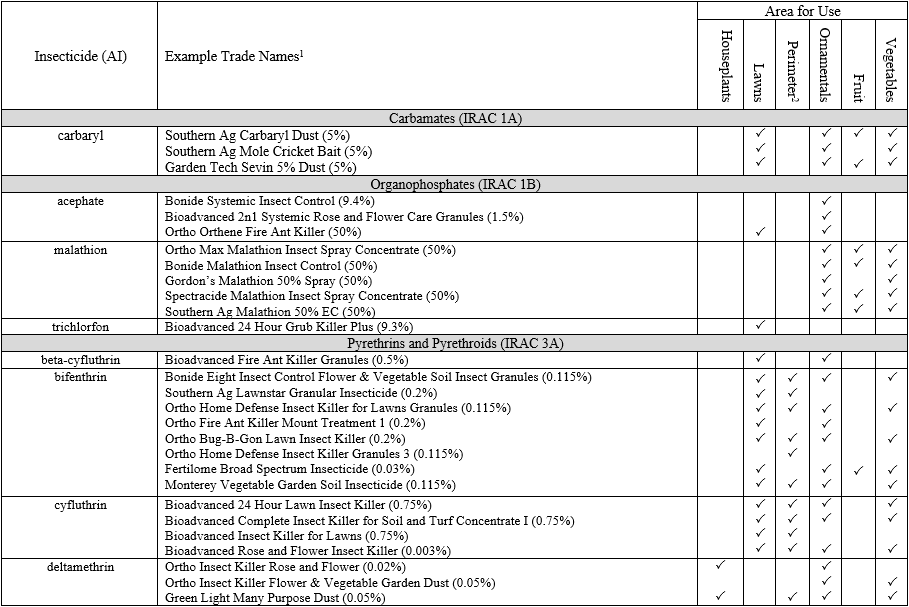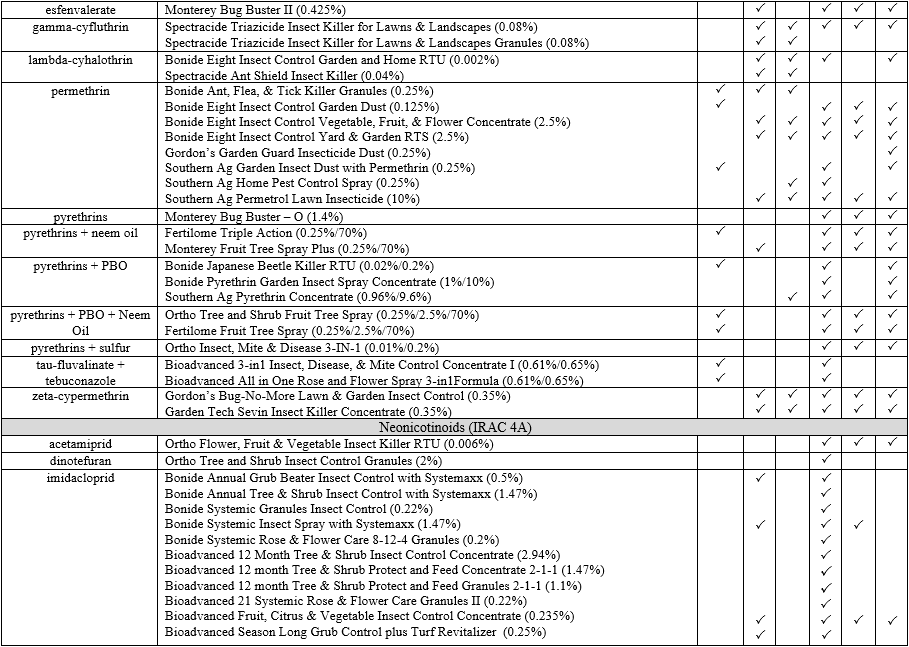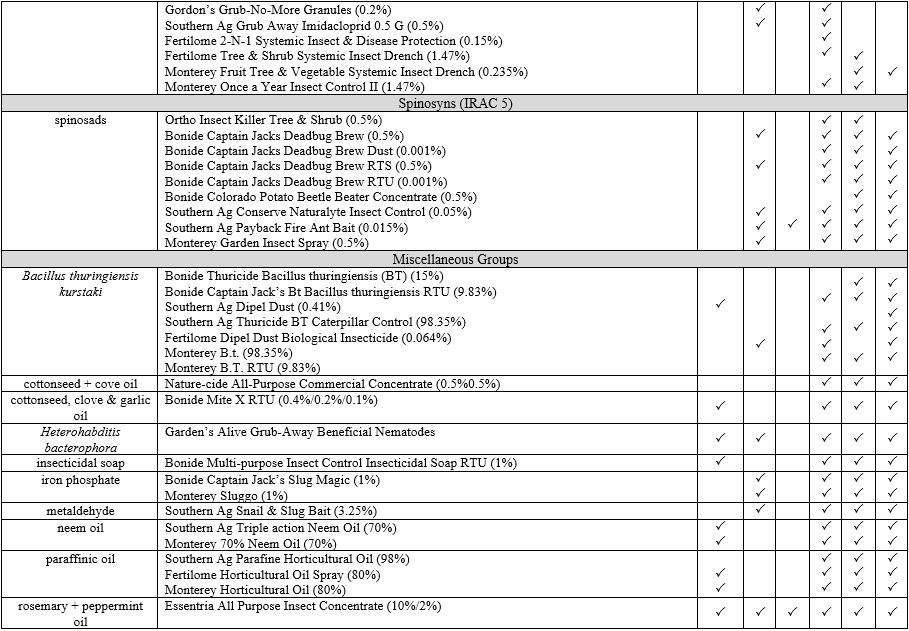 1

RTS = Ready to Spray; RTU = Ready to Use.
2 'Perimeter' refers to applications that are made either to the soil around the perimeter of dwellings to exterior walls or surfaces.
Revised: 7/21 
CAUTION! Pesticide recommendations in this publication are registered for use in Kentucky, USA ONLY! The use of some products may not be legal in your state or country. Please check with your local county agent or regulatory official before using any pesticide mentioned in this publication. 
Of course, ALWAYS READ AND FOLLOW LABEL DIRECTIONS FOR SAFE USE OF ANY PESTICIDE! 
Images: University of Kentucky Entomology