Calendar for Common Kentucky Shade Tree and Woody Ornamental Pests
ENTFACT-447: Calendar for Common Kentucky Shade Tree & Woody Ornamental Pests  |  Download PDF
by Lee Townsend, Extension Entomologist
University of Kentucky College of Agriculture 
This calendar shows many of the common insects and mites that feed on shade trees and woody ornamentals in Kentucky. It should be helpful in anticipating pest activity or in identifying potential pests when trying to diagnose problems during the season. The pests are listed alphabetically by month, in most cases with information on where to look for them (usually on the foliage). For pests such as scales and borers, there is information on when the vulnerable stage is active rather than when the more visible adults are present. The "When to look" column indicates when the feeding stages should be present. Pests with multiple generations appear more than once on the calendar. This publication has been prepared to serve as an aid in evaluating landscape plantings for pests, it is not intended to be a spray schedule. 
The geographical and seasonal weather variations across Kentucky will result in pests appearing sooner or later in a particular year. Both plant and insect development are temperature-dependent so seasonal appearance of particular pests should follow a predictable sequence that correlates with the flowering of particular landscape plants. More accurate predictions can be made by using ENT-66, "Timing control actions for landscape insect pests using flowering plants as indicators". The information in ENT-66 will help you to know when to check plants for pests and to schedule control measures more effectively. ENT or Entfact publications for specific pests are listed below the pest name so that you can get more detailed information. If none are listed, you can look in other references.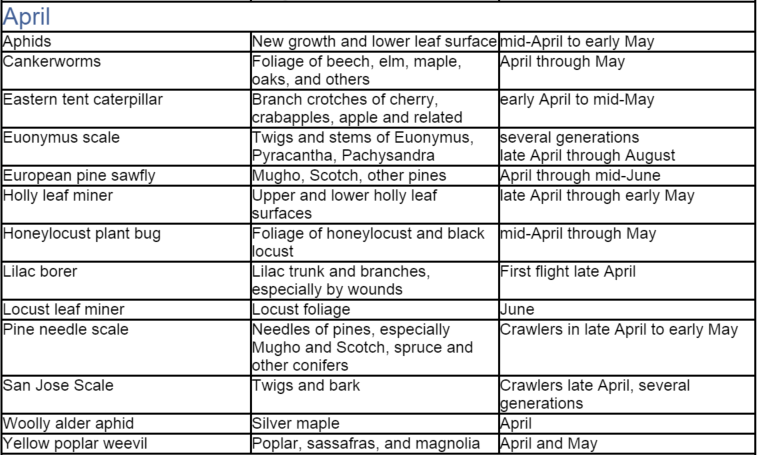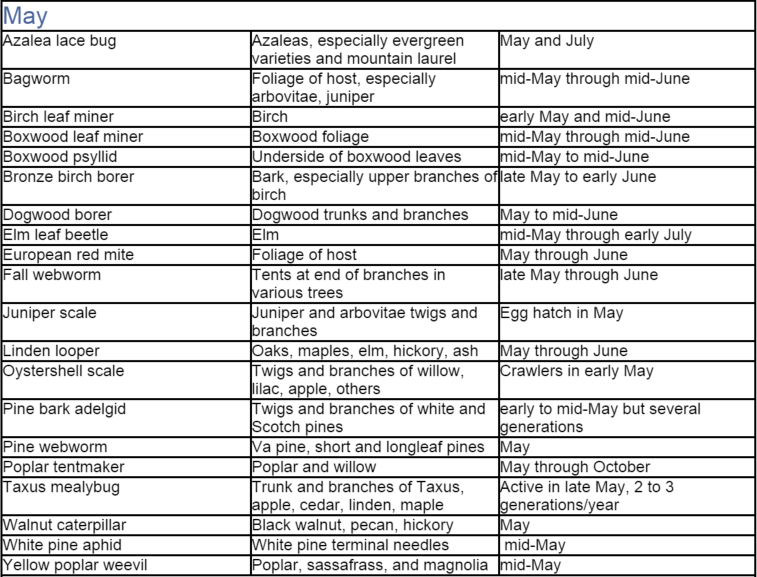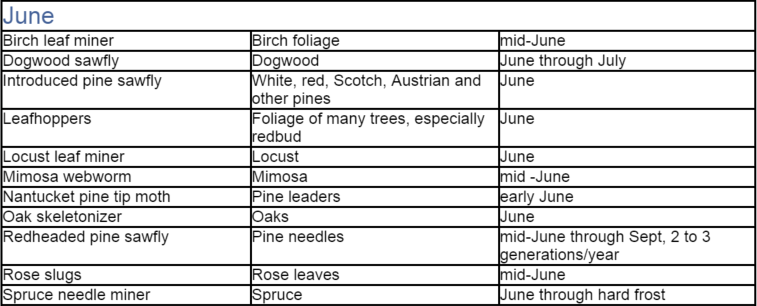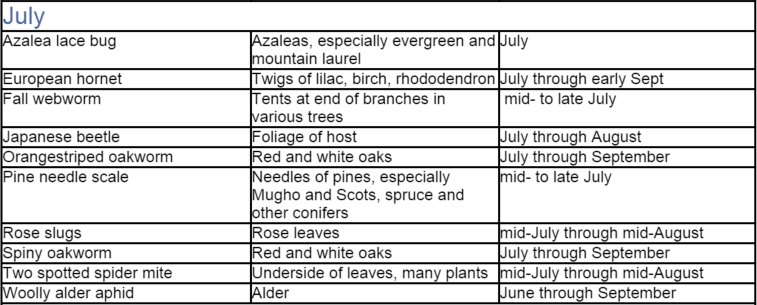 Issued: 1/03 
Revised: 1/03 
CAUTION! Pesticide recommendations in this publication are registered for use in Kentucky, USA ONLY! The use of some products may not be legal in your state or country. Please check with your local county agent or regulatory official before using any pesticide mentioned in this publication. 
Of course, ALWAYS READ AND FOLLOW LABEL DIRECTIONS FOR SAFE USE OF ANY PESTICIDE! 
Photos courtesy Ric Bessin, University of Kentucky Entomology