Lynne Rieske-Kinney
Professor, Forest Entomology

lrieske@uky.edu
Phone (859) 257-1167
Fax (859) 323-1120

Department of Entomology

S-225 Ag Science Center N
Lexington KY 40546-0091
Professional Profile
Research Interests
My research program utilizes field and laboratory approaches to answer behavioral and ecological questions in forest ecosystems in the context of herbivore-plant relations, feeding guild interactions, and interactions among plant stressors. Focusing on invasive species, we evaluate how disturbance forces directly and indirectly impact arthropod abundance, herbivory and herbivore success, and forest community dynamics (see UK Ag Magazine, Fall 2013). Current projects include:
Monitoring the Effects of the Invasive Hemlock Woolly Adelgid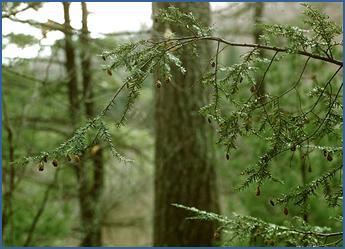 In recent years hemlock forests in Kentucky and throughout eastern North America have been threatened by a highly invasive forest insect, the hemlock woolly adelgid, Adelges tsugae (HWA). HWA was first documented in the eastern USA in 1951, and in the mid-1980s, perhaps due to climatic factors, there was a very rapid and aggressive expansion of its geographic range. Since that time HWA has substantially expanded its distribution, interacting with biotic and abiotic stressors and causing extensive mortality of eastern hemlock. Initial reports of HWA in Kentucky occurred in 2006.
Extensive adelgid-induced hemlock mortality is imminent as HWA expands its range, and will have far-reaching consequences. We are evaluating changes in composition and structure of hemlock-dominated forests as HWA-induced mortality occurs. Projections predict a 98% decline in hemlock resources within 10 yr of infestation. Repercussions for riparian vegetation, stream characteristics, and associated biota are being evaluated. We are documenting differences between hemlock and non-hemlock streams with respect to stream chemistry and benthic macroinvertebrate communities. Because the adelgid is a relatively new arrival in the central/southern Appalachians and extensive hemlock mortality has not yet occurred, the full consequences of adelgid-affected forests in the region remains uncertain.
Potential Mechanisms of Hemlock Resistance to the Hemlock Woolly Adelgid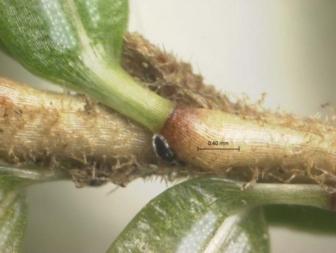 Hemlock - adelgid interactions are under intense study in North America and several mechanisms underlying hemlock susceptibility are being investigated. Both eastern hemlock and Carolina hemlock are extremely susceptible to adelgid feeding; several mechanisms have been suggested as factors affecting this susceptibility. Though the feeding site and nutritional substrate of the hemlock woolly adelgid has been identified, little is known about species-specific or temporal differences in micromechanical properties of the stylet insertion point or in starch availability for feeding adelgids. 
We're investigating potential inter-specific variability in hemlock phenology, biomechanical properties, and growth characteristics in a common garden. Because adult HWA are sessile, the ability of the crawlers to locate suitable host material is critical to colonization success. Differences in stylet penetration and nutrient availability during periods of crawler activity may provide a basis for HWA resistance among hemlocks.
Can Our Chestnut Survive Another Invasion?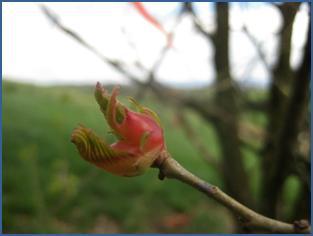 We are evaluating the ecological interactions, dispersal patterns, and mechanisms regulating Asian chestnut gall wasp populations in eastern North America. The gall wasp, Dryocosmus kuriphilus (Hymenoptera: Cynipidae), is a devastating pest that causes globular twig, shoot, and leaf galls on actively growing shoots of all species of chestnut, Castanea spp. Galling reduces tree vigor, prevents normal shoot development and can cause tree mortality. Chestnut production and chestnut restoration efforts throughout the eastern USA are threatened by the persistent spread of this exotic invader. We've been evaluating the mechanisms associated with gall formation and natural enemy recruitment by the Asian chestnut gall wasp in eastern North America, to more fully understand gall development and what factors regulate gall wasp populations. The natural enemy complex has been characterized, and interactions between a native parasitoid, Ormyrus labotus, and an introduced parasitoid, Torymus sinensis, are being evaluated. We are evaluating the extent to which galling alters the susceptibility of infested chestnut to subsequent herbivory, assessing interactions between the gall wasp and chestnut-associated fungi, and assessing the potential of chestnut production for enhancing essential ecosystem services.
Developing Sustainable Management Approaches For Emerald Ash Borer
In deciduous forests of eastern North America, ash are suffering extensive mortality due to invasion by the exotic emerald ash borer (EAB) (Agrilus planipennis; Coleoptera: Buprestidae). Initial eradication attempts failed and infestations spread rapidly. EAB was first reported in Kentucky in 2009. 
Ash mortality occurs quickly; infested trees can die within 6 years. Mortality occurs so rapidly that establishing biological controls has been problematic, and ash conservation is primarily reliant on chemical protection, which is not sustainable. We are blending biological control releases, chemical applications, and native enemies to aid in EAB suppression with the goal of developing a sustainable approach for EAB management and minimizing ash mortality.  
Post-Invasion Forests: Composition and Structure Following Invasive Species Establishment
In the southern Appalachians, numerous exotic pest complexes threaten forest health and sustainability. Emerald ash borer (EAB), sudden oak death (SOD), laurel wilt disease (LWD), and thousand cankers disease (TCD) are current and emerging exotic pests threatening forests in Kentucky and throughout the southeast, with the potential to significantly alter the composition of contemporary southeastern forests. Given the prevalence of susceptible host material throughout the southeast, post-invasion forests will undoubtedly differ in composition and structure from their pre-invasion counterparts. We're evaluating the nature and extent of these differences utilizing existing methodologies (stand assessments, current models, and simulations) to predict the potentially devastating effects of species invasions and their interactions with endemics on future forest structure. We're documenting changes in the composition and structure of mixed deciduous forests following establishment of selected exotic invasive species in the southern Appalachian region. 
Habitat Disturbance and Forest Structure Influences Prey Base for Forest Dwelling Bats
We are evaluating spatial and temporal patterns of forest insects in relation to forest structure and disturbance, in the context of their role as prey for forest dwelling bats. We are evaluating prey consumption by individual bats using DNA-based techniques. Bat fecal samples are collected and analyzed microscopically for prey identification, followed by DNA extraction, amplification, and COI sequencing for construction of a DNA sequence library for Lepidoptera. Individual prey sequences are identified using the Barcode of Life data base. Results are providing high resolution data on trophic linkages of these ecologically sensitive predators.
Prospective Students
I am always interested in motivated and qualified individuals for graduate research projects.  If you are interested in pursuing a graduate degree in my areas of interest, please contact me at lrieske@uky.edu.
Current Lab Personnel
Post-doctoral Scholar
Luke Dodd, Ph.D. University of Kentucky 2010 
"Fire management and habitat quality for endangered bats during the swarming and staging periods: predator-prey interactions and habitat use of bats threatened by White-Nose Syndrome."
PhD 
Ignazio Graziosi, Fulbright Scholar, Ph.D. December 2014 (projected) 
"Invasiveness of an exotic gall wasp is influenced by interactions with exotic and endemic organisms." 
MS
Chris Strohm, M.S. May 2014 (projected)
"Investigating the impacts of eastern hemlock loss: The influence of altered litter resources on benthic macroinvertebrates of Appalachian headwater streams"
Bill Davidson, M.S. May 2015 (projected)
"Sustainable management of emerald ash borer"
Undergraduate student research projects
Adam Baker, Spring 2014
"Benthic invertebrates in headwater streams"
Waydon Yates, Spring 2014
"Benthic invertebrates in headwater streams"
 Technician
Abe Levin-Nielsen. Lab and Field manager
Selected Recent Publications
Nelson, LA, DN Dillaway, LK Rieske. 2014. Effect of an exotic herbivore, Adelges tsugae, on photosynthesis of a highly susceptible Tsuga host, with notes on conspecifics. Arthropod – Plant Interactions 8 (1), 9-15.

Graziosi, I, LK Rieske. 2013. Response of Torymus sinensis, a parasitoid of the gallforming Dryocosmuskuriphilus, to olfactory and visual cues. Biological Control 67, 137-142.

Adkins, JK, LK Rieske. 2013. Loss of a foundation forest species due to an exotic invader impacts terrestrial arthropod communities. Forest Ecology and Management 295, 126-135.

Rieske, LK. 2013. 120 years of innovative entomology: A celebration of achievements. AmericanEntomologist.

Clark, JT, S Fei, L Liang, LK Rieske. 2012. Mapping eastern hemlock: Comparing classification techniques to evaluate susceptibility of a fragmented and valued resource to an exotic invader, the hemlock woolly adelgid. Forest Ecology and Management 266, 216-222.

Dodd, LE, EG Chapman, JD Harwood, MJ Lacki, LK Rieske. 2012. DNA-based techniques allow unprecedented resolution of prey selection by a common forest-dwelling bat (Myotis septentrionalis). Journal of Mammology 93, 1119-1128.
View full publication list.
Past Lab Personnel
Joshua Adkins, Ph.D. May 2012. Aquatic consequences of a terrestrial invader: The effects of the hemlock woolly adelgid on headwater stream quality. [Currently a visiting instructor at Transylvania University]
Lori Nelson, M.S. June 2012. Differential responses of hemlock woolly adelgid and its predator on hemlocks across a spectrum of resistance. [Currently a Research Technician at the University of Virginia]
Joshua Clark, M.S., May 2010. Using remotely sensed data to map an exotic invader: the hemlock woolly adelgid and eastern hemlock in Kentucky. Co-directed with J. Obrycki and S. Fei (Dept. Forestry).
Heather Spaulding, M.S., December 2009. Modeling future forests in the wake of invasive species establishment [Currently a Laboratory Technician at UC - Davis]
Paul Ayayee, M.S., May 2009. Hemlock characteristics influence susceptibility to the invasive hemlock woolly adelgid. [Currently a PhD student in the Department of Entomology at Penn State]
W. Rodney Cooper, Ph.D., December 2007. "Chestnut defenses affect generalist and specialist herbivore responses and influence community dynamics." [Currently a Research Scientist for USDA ARS Laboratory, Wapato, WA]
Ryan McEwan, Post-doctoral Scholar 2006, PhD Ohio University (2006), worked a collaborative project between L. Rieske-Kinney and M. Arthur (Forestry) on the effects of Lonicera maackii invasion on ecosystem function. [Currently an Assistant Professor at the University of Dayton]
Tom W. Coleman, Ph.D., December 2006. "Natural and anthropogenic forest disturbances alter forest composition, structure, and succession, and influence arthropod communities." [Currently a Scientist for the US Forest Service Forest Health Protection Unit, San Bernardino, CA]
Aerin Land, M.S., May 2006. "Prescribed fire influences shortleaf pine regeneration and herbivore pressure following southern pine beetle mortality." [Currently with the US Department of Interior, Everglades National Park, Homestead, FL]
Beth Choate, M.S., May 2005. "Life history and dispersal patterns of Malacasoma americanum, the insect associated with mare reproductive loss syndrome." [Currently an Assistant Professor at Allegheny College, Meadville, PA]
Shelly K. Kellogg, M.S., December 2004. "Blight resistance and gall wasp attack influence foliar properties and herbivore susceptibility in chestnut." [Employed as Agricultural Inspector, US Department of Homeland Security, Charlotte, NC]
Leslie Foss, M.S., October 2002. "Response of the gypsy moth to species-specific and gall-induced differences in oaks." [Currently employed with USDA APHIS]
Heather Housman, M.S., December 2001. Department of Forestry co-advisee. [Currently employed by the Kentucky State Nature Preserves Commission]
Aaron S. Adams, M.S., February 2000. "Interactions between prescribed fire and herbivory: Effects on oak regeneration."
Education
PhD University of Wisconsin (1995)