Insecticides for Control of White Grubs* in Kentucky Turfgrass
ENTFACT-441: Insecticides for Control of White Grubs* in Kentucky Turfgrass  |  Download PDF
*(Masked chafers, Japanese beetle, Green June beetle, May beetle, Black turfgrass ataenius) 
by Michael F. Potter and Daniel A. Potter, Entomologists
University of Kentucky College of Agriculture 
The following table lists insecticides currently available for controlling white grubs in Kentucky. Detailed information on biology and management of white grubs is provided in University of Kentucky Cooperative Extension Service publication ENT-10: Controlling White Grubs in Turfgrass. Consult label for detailed directions on use rates, mixing, and proper application.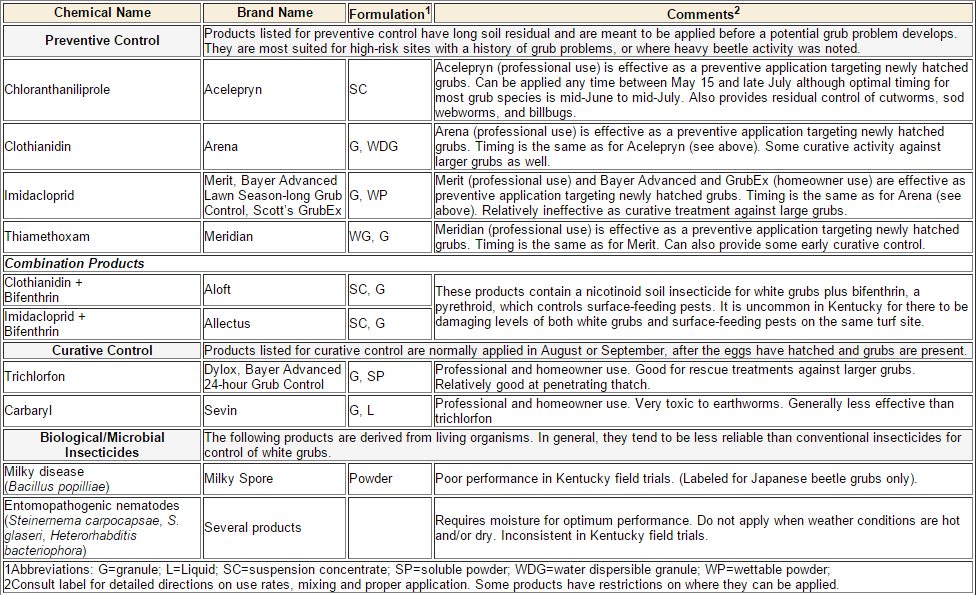 Trade names are used as examples. No endorsement is intended, nor criticism implied of similar products not named. Always read and follow directions on the label. 
Issued: 7/99 
Revised: 2/12 
CAUTION! Pesticide recommendations in this publication are registered for use in Kentucky, USA ONLY! The use of some products may not be legal in your state or country. Please check with your local county agent or regulatory official before using any pesticide mentioned in this publication. 
Of course, ALWAYS READ AND FOLLOW LABEL DIRECTIONS FOR SAFE USE OF ANY PESTICIDE! 
Images: University of Kentucky Entomology